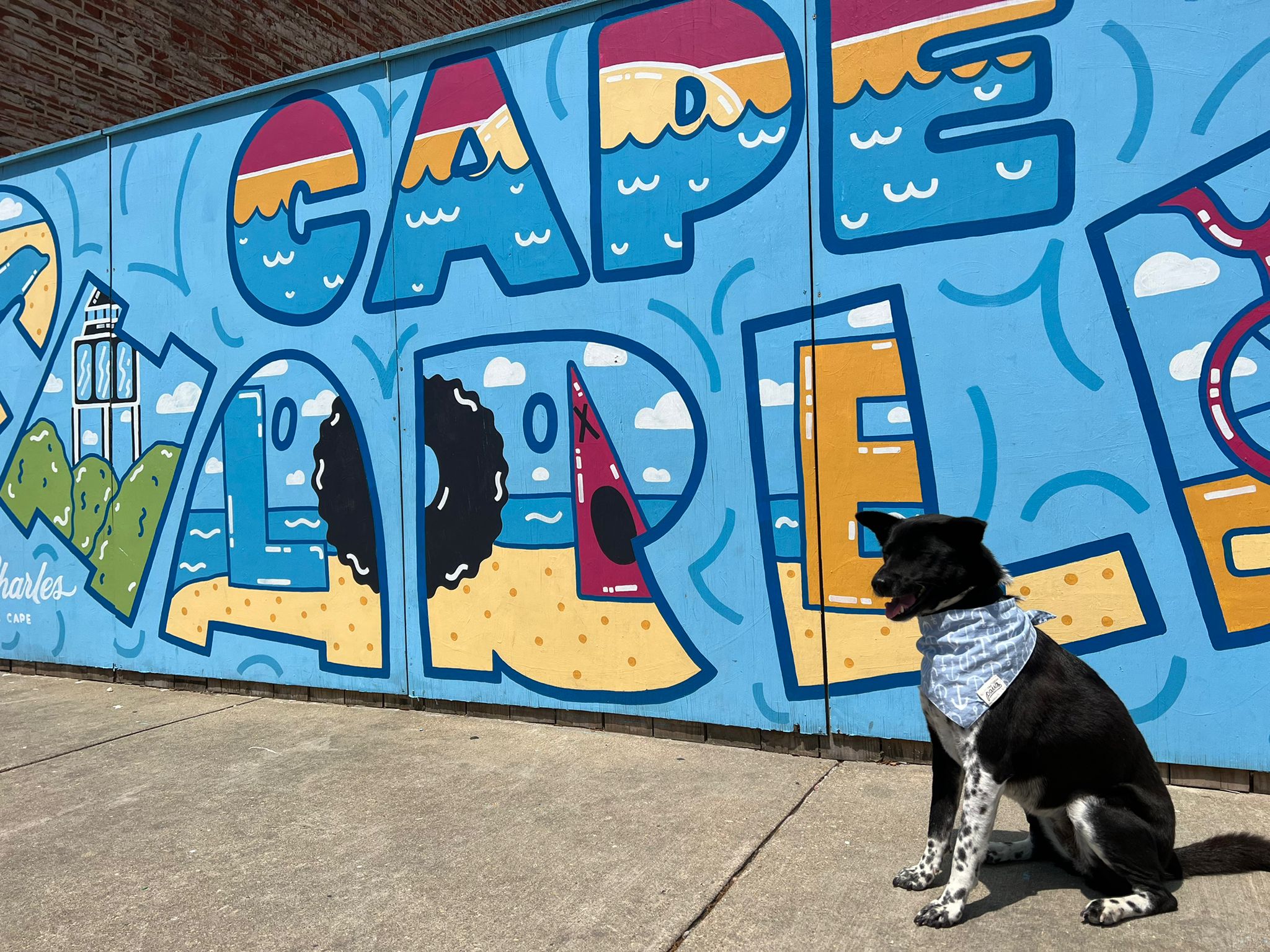 We love spending the day in Cape Charles, Virginia!
The charming downtown is the perfect spot to take your pup. With wide sidewalks and lots of water bowls sprinkled around the main street our dog Scout enjoys walking around with us on sunny days.

Places to Stay
We are fortunate to have a family member living in town so we stay with them while we travel to Cape Charles - but we did a bit of research and made a few phone calls to help you find somewhere to stay with your pup!
Sunset Beach Resort - The hotel allows you to have dogs of all sizes! Sunset Beach is not located in the downtown area of Cape Charles, but the accommodation is just a short drive to some of our favorite places! This hotel also offers a section of the beach (Sandy Paws Dog Beach) and a park just for dogs!
Peach Haven - This newly renovated duplex is located in the historic downtown of Cape Charles. This AirBnB is managed by Cape Charles Escapes. This rental sleeps 5 guests and is the perfect spot for your pup to stay!
Bay Breeze on Tazewell - This Cape Charles cottage looks like the ideal spot to stay in town - and it's dog friendly! Located just a few moments away from the beach the house comes with beach chairs and a cart to take over your picnic for the day.
Cape Charles is also a great day trip destination from Virginia Beach or Norfolk!
Places to Eat
The Bakery on Mason - Louise and her team make the most delicious take away sandwiches. Think fresh breads filled with seasonal veggies and spreads. They also have a cabinet full of delicious treats such as cookies and pastries.
There are a few little table outside where we leave Scout on her leash while we pop in and order our sandwiches. You can then take a seat and eat your lunch outside with your pup.
Gull Hummock Gourmet Market - We love picking ordering a glass or wine and selecting savory snacks at Gull Hummock. They have two hightop tables outside where your dog can hang out with you while you say cheers!
The Northhampton - This sweet bed and breakfast has a large porch with comfy seating. They have a drink and snack menu available and we enjoying relaxing after walking the downtown. Dogs are allowed on the porch and you can even ask for a bowl of water!
The Shanty - One of our favorite spots in the summertime! Dogs are allowed to hangout in their big bag patio where you can sit in picnic tables or play yard games. We love the old school, local vibe at The Shanty!
Cape Charles Brewing Company - Dogs and beer go hand in hand right?! We love this local brewery where dogs are welcome.
Chatham Winery - While this spot isn't in Cape Charles (it's 15 minutes up the road) we love spending the afternoon here. If the winery isn't too crowded we can also let Scout off the leash and she can explore - it's so wonderful. Our favorite wine is the Cabernet Franc and they made a delicious cheese board! PS - check out their instagram photo, its a dog carrying a wine bottle in the ocean - gotta love it!
Around Town

Simply walking the residential streets of Downtown Cape Charles is an activity! There are so many beautiful homes and the sidewalks are perfect for walking along with your pup. Plan to spend an hour or so just wandering around the neighborhood and admiring the homes.
We also enjoy taking Scout along the beach side boardwalk - the path is wide and you walk parallel to the beach. During high season dogs aren't allowed on the beach between 9am - 9pm but if your an early riser be sure to take your dog for a beach walk before 9. In the winter we find it a bit more carefree on the beach so we usually take Scout for a sandy wander during the day!
There are lots of lovely gift shops in Cape Charles - and several of them have gifts for your dogs, including the candy shop which sells homemade dog treats!
We hope you have time to visit Cape Charles on The Eastern Shore of Virginia - and remember to bring your dog along too for an extra special time!