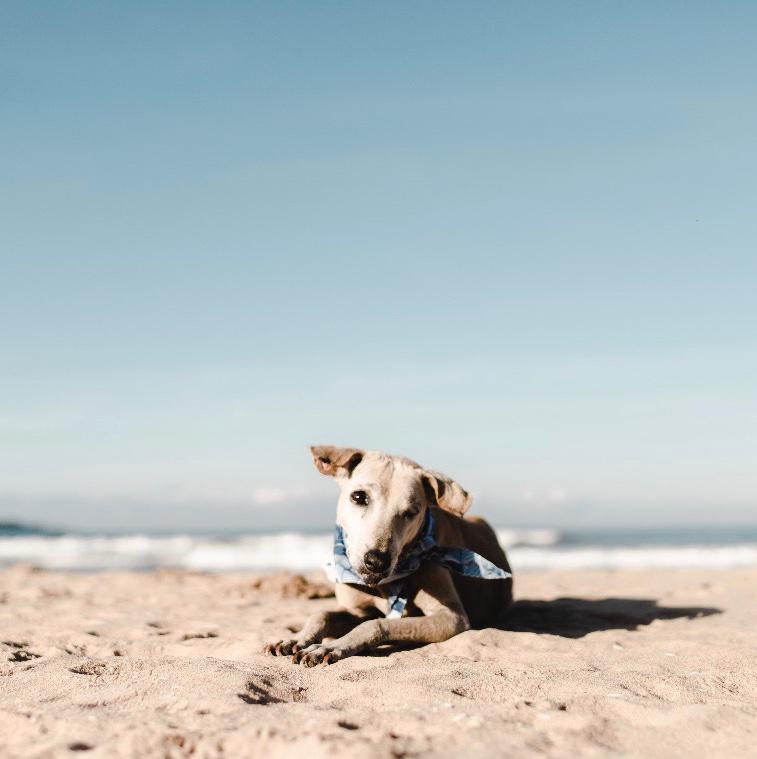 When I first moved to Sri Lanka, we often walked the stretch of sand that Honey called home. I would take our pup Scout down for her morning or afternoon walk and we would pass all the beach dogs, many of whom did not want to give Scout the time of day. That was their stretch of sand and an intruder was not welcome, especially one from a different island!


Honey was one of the dogs we met - in her old age, she was not at all interested in Scout. She would bark and bark and bark until both Scout and I skittered away past her stretch of sand. Eventually once Honey realized we weren't going anywhere (we walked the beach everyday) she stopped the barking, but she was still indifferent towards us. While the other pups in the beach gang would try to sniff out Scout, Honey just glared as we passed.


This little stretch of sand is also home to a small beach front restaurant with a few plastic chairs and a lovely family selling rice and curry and cold beers. We would go for dinner on the weekend and eventually Honey started coming closer and closer. I started to sense that she wanted to become friends - in her own way. Little did I know that she was actually sick, and now when I reflect back on the moments, just maybe she knew we could help her.

One night over dinner with the Ceylon Paws team, my friend Vera and I saw that one of her eyes looked inflamed. It was something I hadn't noticed before. We decided to look into the issue and the next day I rang We Care and scheduled an appointment.
I was nervous for our ride to the clinic (about 45 min away) - Honey and I hadn't bonded before … would she scratch me, or try to bite me when I picked her up? She had only just started coming closer to sit by my side during dinner, but I had yet to pet her, let alone pick her up and have her sit on my lap for a long drive. But Honey knew, she just knew we were there to help. I took the blanket, put it over her back and scooped her right up. She sat on my lap the whole way to We Care and even had a little smile on her face. It was that day that our friendship was secured. It was that day that I named her Honey.


A few days later we went to collect her from the clinic and she greeted me as if we had been friends her whole life. Long gone was the barking, grumpy old pup on the beach. Honey had found her friend and I had found mine. I think she knew she was safe, she knew someone could help her as she became sick into her old age.

For the past two months we have been helping take care of Honey. We visit her on the beach, give her kibbles and lots of pats. She's was a completely different dog to the dog Scout and I first met. When I call her name she has her own little wiggle dance and she prances over ready for her breakfast - she trusts us and learned to love us.




Just the other week I noticed her remaining eye was showing the same symptoms of the eye we had previously removed. I had to make the decision to see if we could remove the second eye. I know the beach is not a place for a blind dog, but between the lovely family living on beach and my feeding trips I knew she would be taken care of. She was even going to be able to spend her first week recovering at my house so we could make sure she adjusted well.

The appointment was planned and Honey was on her way to have her second eye removed. Unfortunately things didn't go as we had hoped - the vet discovered a heart murmur and noticed that Honey was quickly dropping weight which led him to believe she might have a form of cancer developing. After hearing all of this and the pain Honey must have been in - we made the decision to let Honey rest and put her to sleep.

We took her back to the beach where she was buried - we threw flower petals in her grave and I wrapped her in one of my blankets.


Honey and I found each other at the right time. She became my friend, someone who showed me so much love and joy and in return we were able to help ease her pain during her last several months on this earth. 

In the end we helped her cross over the rainbow bridge to a new stretch of sand where she can run and see all day long!