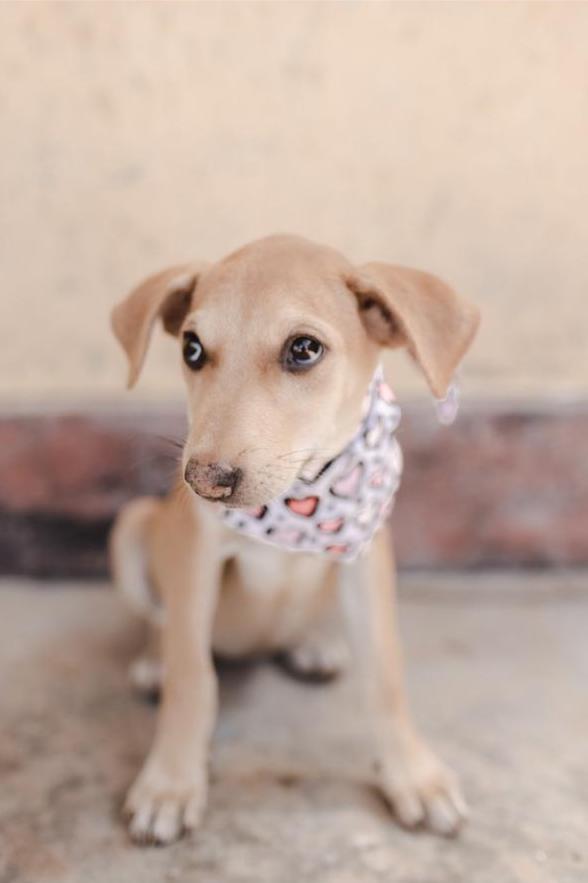 Our sweet Lola passed away on December 4th. She was born on the beach, inside the walls of a new construction site in late January of 2020 along with her 6 brothers and sisters. There were 7 little pups in total and a sweet, but very timid, mama dog who kept a watchful eye on her pups. 
Sadly only 4 of the 7 pups survived past 2 months of age. It's a hard life for newborn puppies on the beach without constant care and nourishment. We did our best to keep an eye on them every few days and one of the 4 pups was even rehomed to a lovely French gal living in Sri Lanka. 
Lola, Balu, and Arya were left and the 3 little musketeers loved life! They spent their days playing on the beach, eating fish from the local fishermen and keeping each other company. Over the course of the summer we made sure all 3 pups were fully vaccinated and sterilized too! 
In April, Arya fell sick and she came to live with us. She stayed in our home for several weeks while we gave her medication and lots of love. Sadly she didn't survive, but we were happy knowing her last few weeks were spent on a warm bed with a big bowl of food and lots of hugs. 
Lola and Balu flourished on the beach and had lots of beach dog friends too! We would visit them at least once a week to make sure they were safe and healthy. They roamed the beach and played with each other - Lola was always the aggressive one! Stealing the food from Balu and keeping him in line! 
About two months ago we noticed Lola wasn't her spunky self. She was eating a bit more slowly and didn't have the same energy she normally has while running around the beach. We quickly took her to the vet and began treatment for tick fever. She stayed at our home for one month undergoing treatment and things seemed to be looking better! She had more energy and was eating well and even playing with Rio and Penny in the yard. 
One day we noticed open wounds on her leg and after observing them for a few days we could tell they weren't healing. We contacted several doctors and eventually took her to the amazing WeCare clinic about 1 hour from our home. She stayed at WeCare under treatment for just over 1 month where she received all the medications and treatments possible in Sri Lanka. Everyone did their best to help our sweet Lola, but sadly on December 4th while sleeping she passed away. Lola fought hard and tough for 2 months - but eventually her body had enough and it was time to leave this life. We love her and will remember her always! 
Thank you to everyone who cheered Lola on both near and far. She had a large group of people around the world supporting her and loving her and for that we are so grateful!