The Paws directly helps rescue, rehabilitate + support dogs in need.
Your purchases enable us to give back on the islands of Bali and Sri Lanka, and around the world.

These were dogs that needed an extra hand - we want to tell you their stories.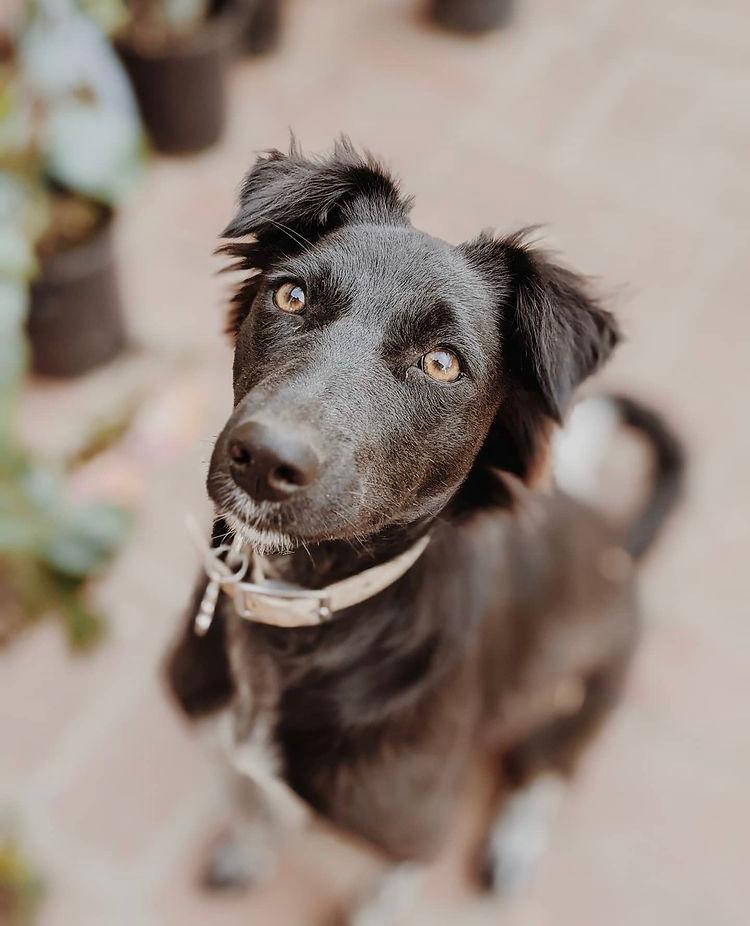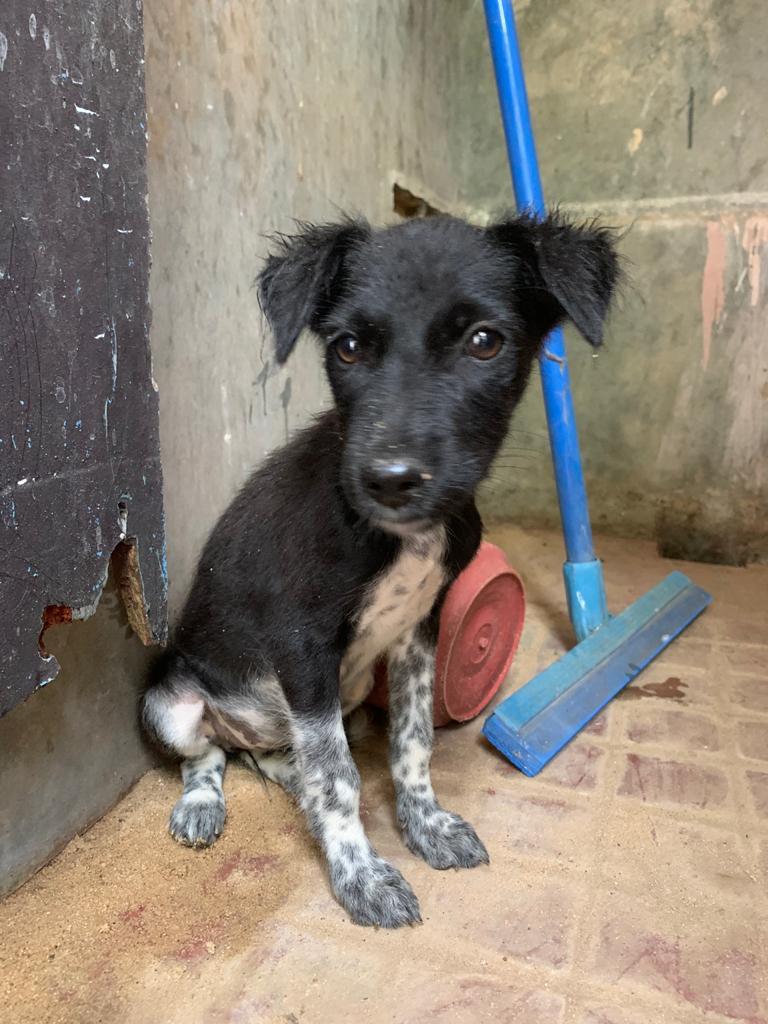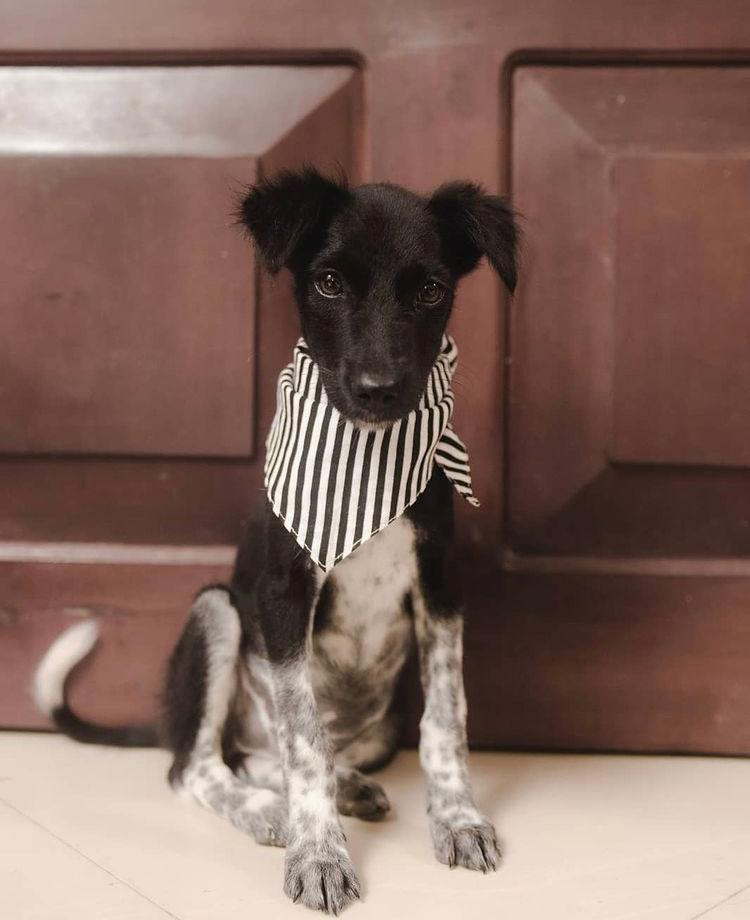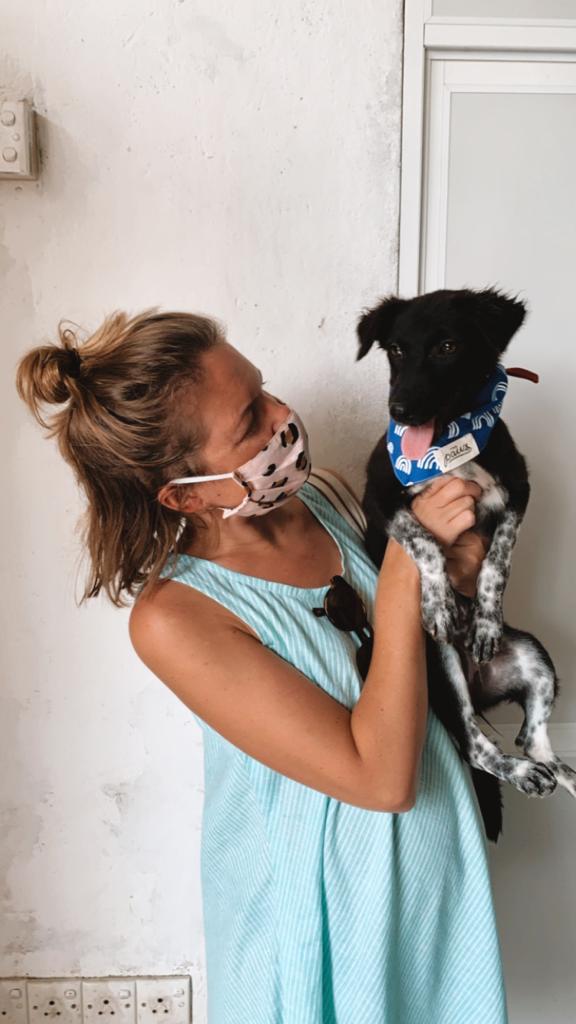 RIO
In the middle of 2020 a little black and white pup was dumped at the neighboring temple near our home in Sri Lanka.

While my friend was feeding several puppies at the temple she noticed another pup had appeared - the monks told her she was recently dumped on the land.
We went a few days later and filmed videos of her on The Paws instagram and that's when we heard from Katrina. She wrote us and asked if the pup would be available to adopt… to the USA!

Rio was the best little foster pup. She loved cuddling on the sofa, eating leftovers by our feet, and running around in the yard. Every day we fell more in love with her!

Rio is now living her BEST life with her mom, dad and two fur siblings Havana and Harlow. You can follow along on her adventures through her personal insta account: @rioandhavana.

Read her full story here!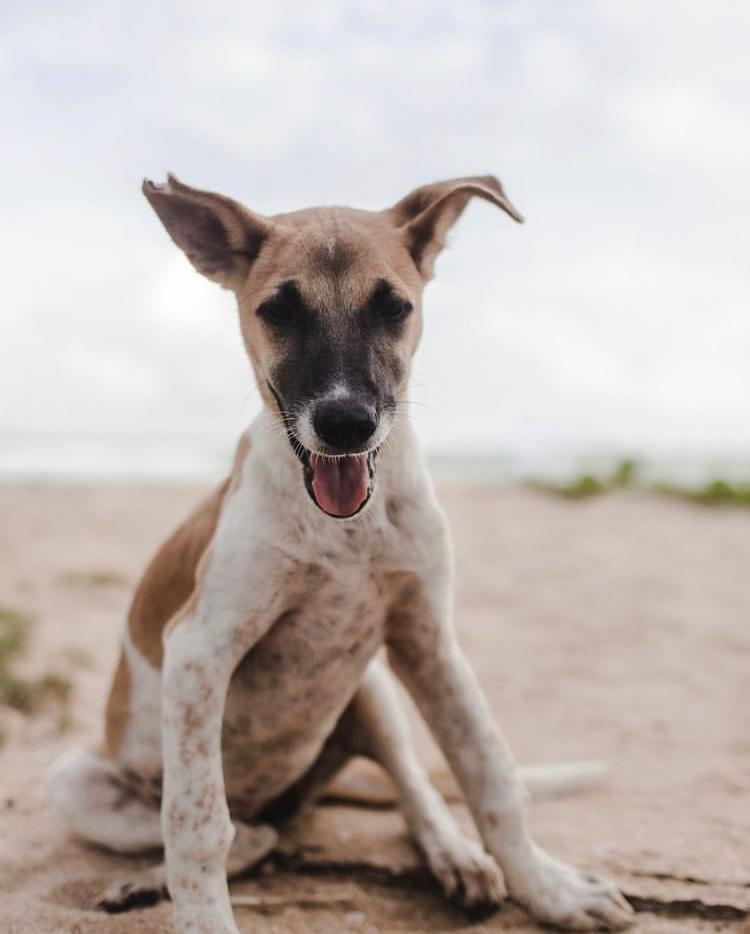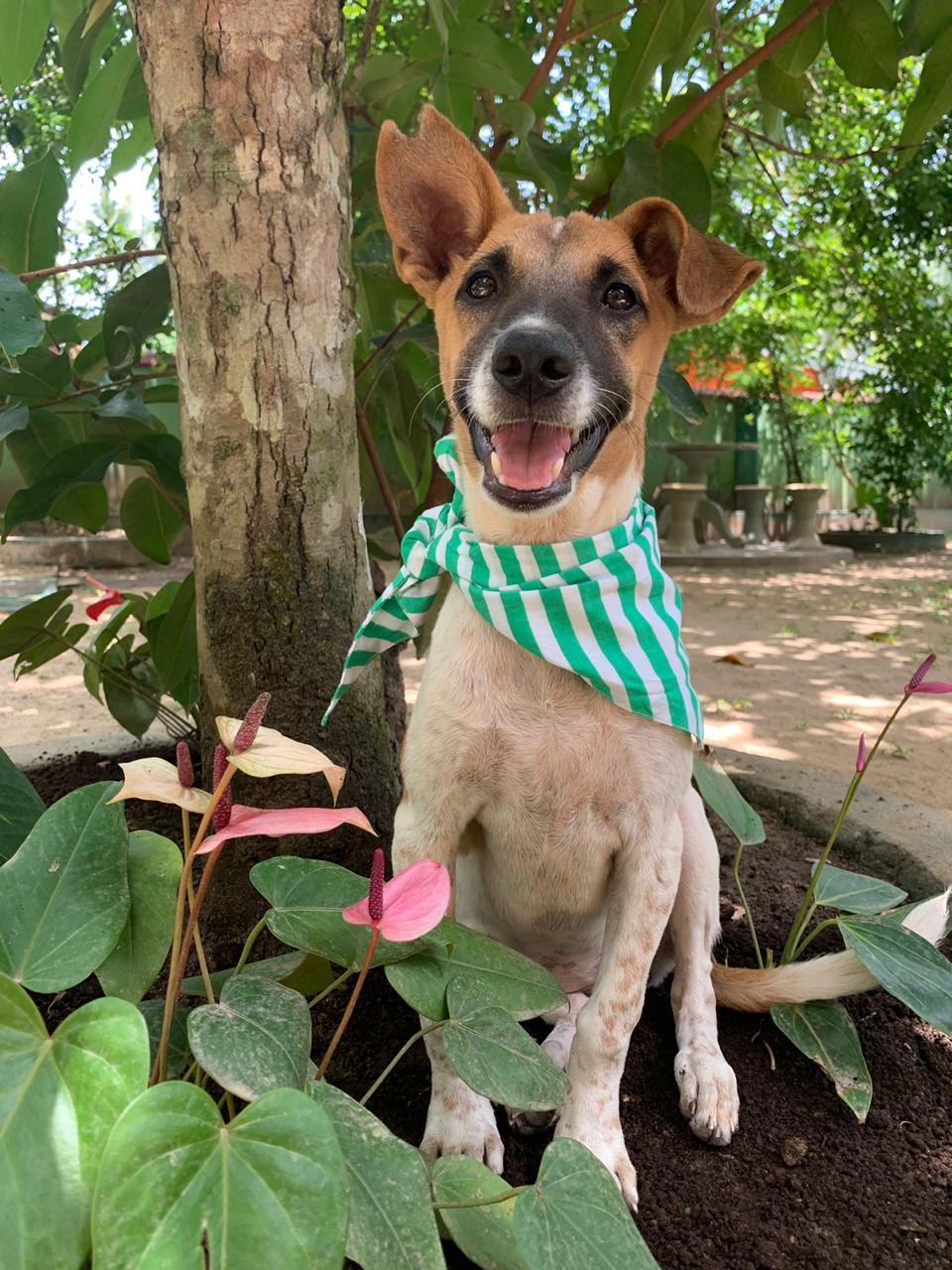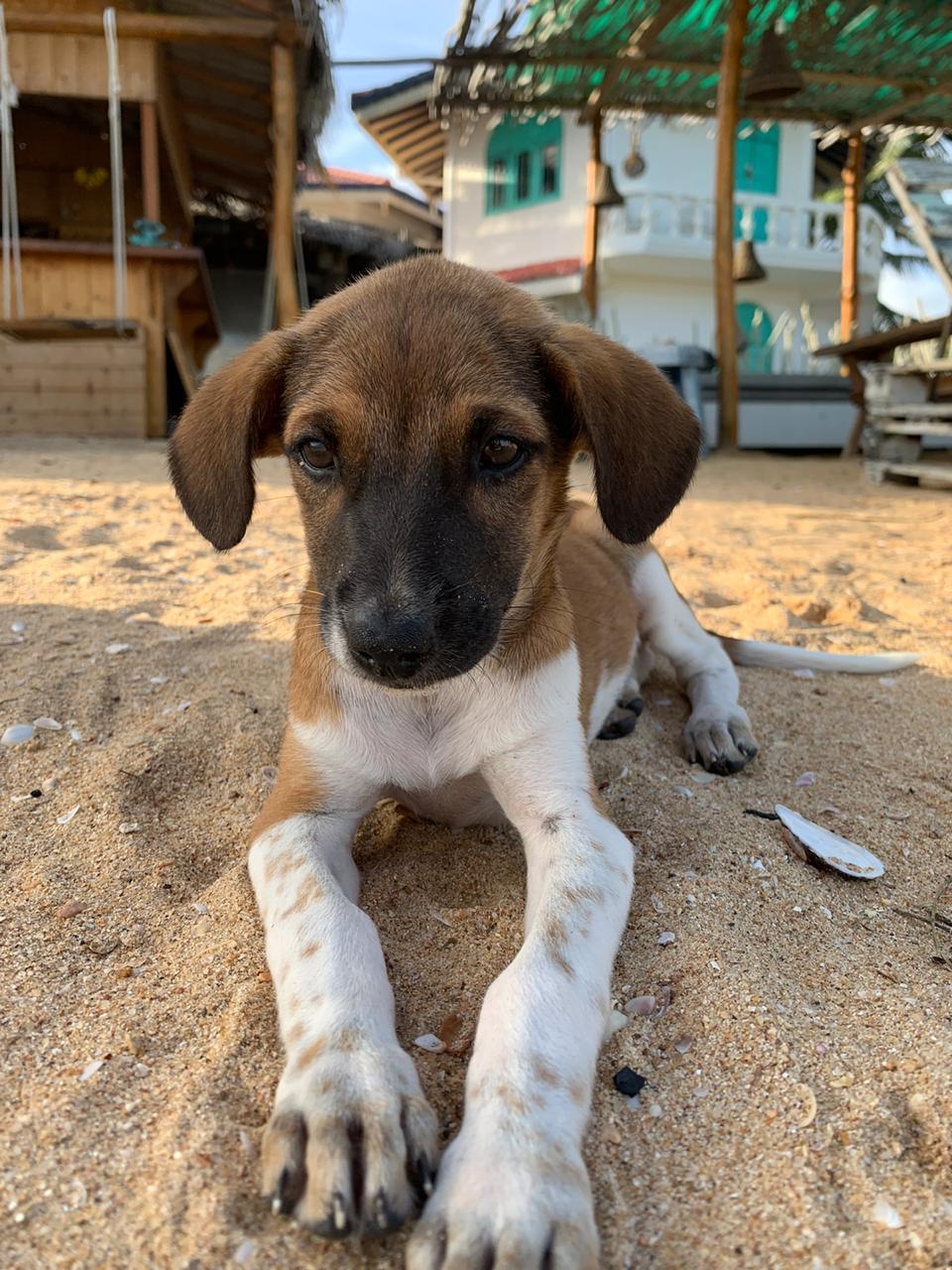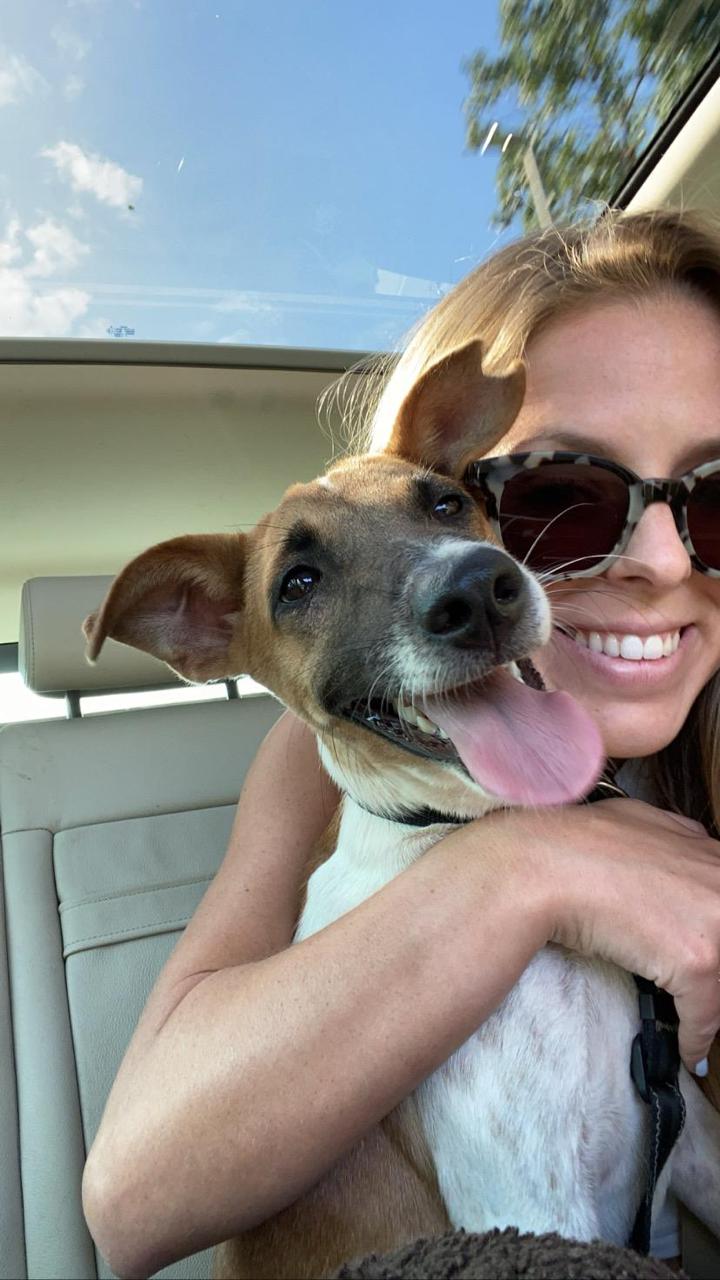 LUNA (BO)
In May we met little Bo on the beach in Weligama, Sri Lanka. She was wandering around with her mom and a few siblings - looking for food, love and attention.

We started feeding the family every few days and over the course of about 1 month the puppies began to disappear, but Bo was still there playing in the sand.

Read her full story here.

After her sterilization surgery Bo came home with us for the evening to rest and recover. We posted stories of her on The Paws instagram - and that's when we heard from Victoria asking if she could adopt Bo…. To the USA! She had fallen in love with her sweet face and her story.

Every day her new mama fell more and more in love - anxiously awaiting her arrival into the USA. She renamed her Luna and prepared for her homecoming! 
On September 12th Luna and Victoria were united in New York City at the JFK airport! We are BEYOND happy and excited for their story to begin - we are so glad they found each other!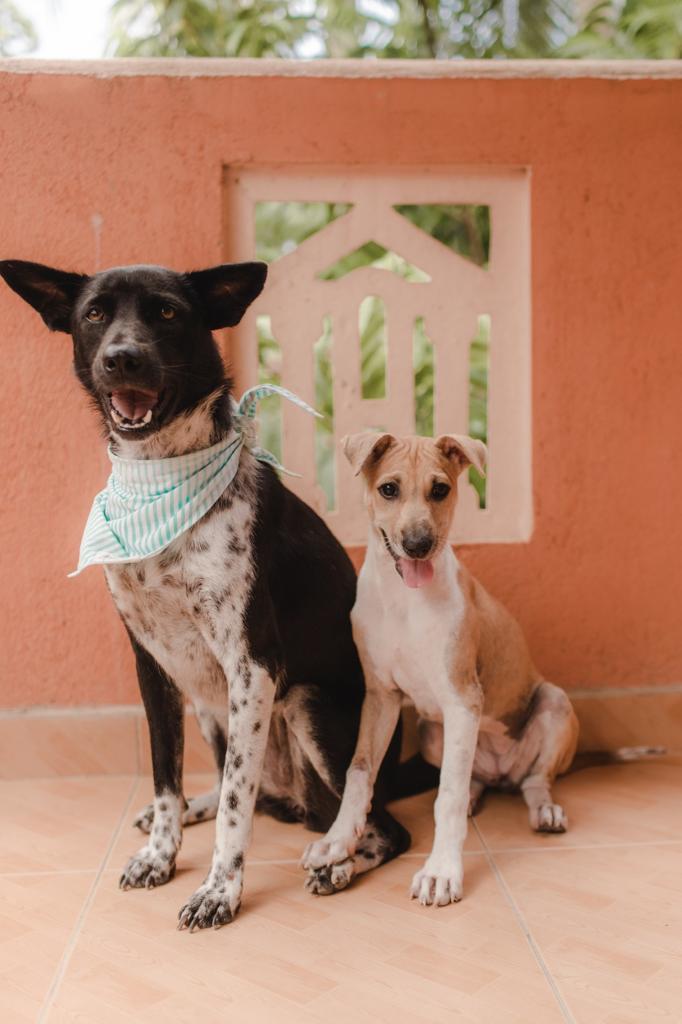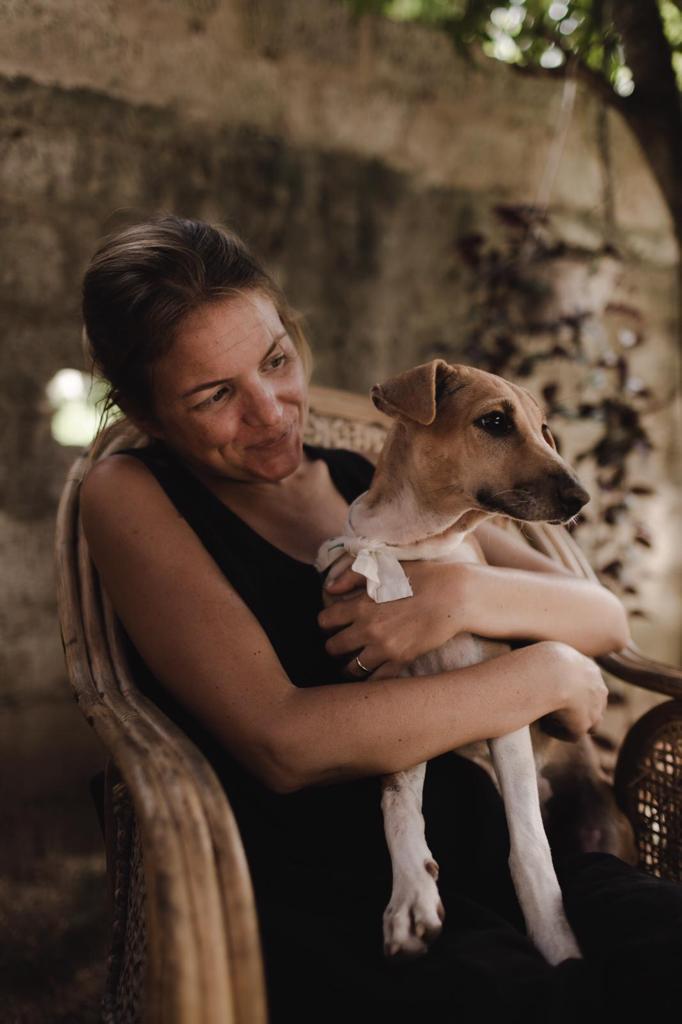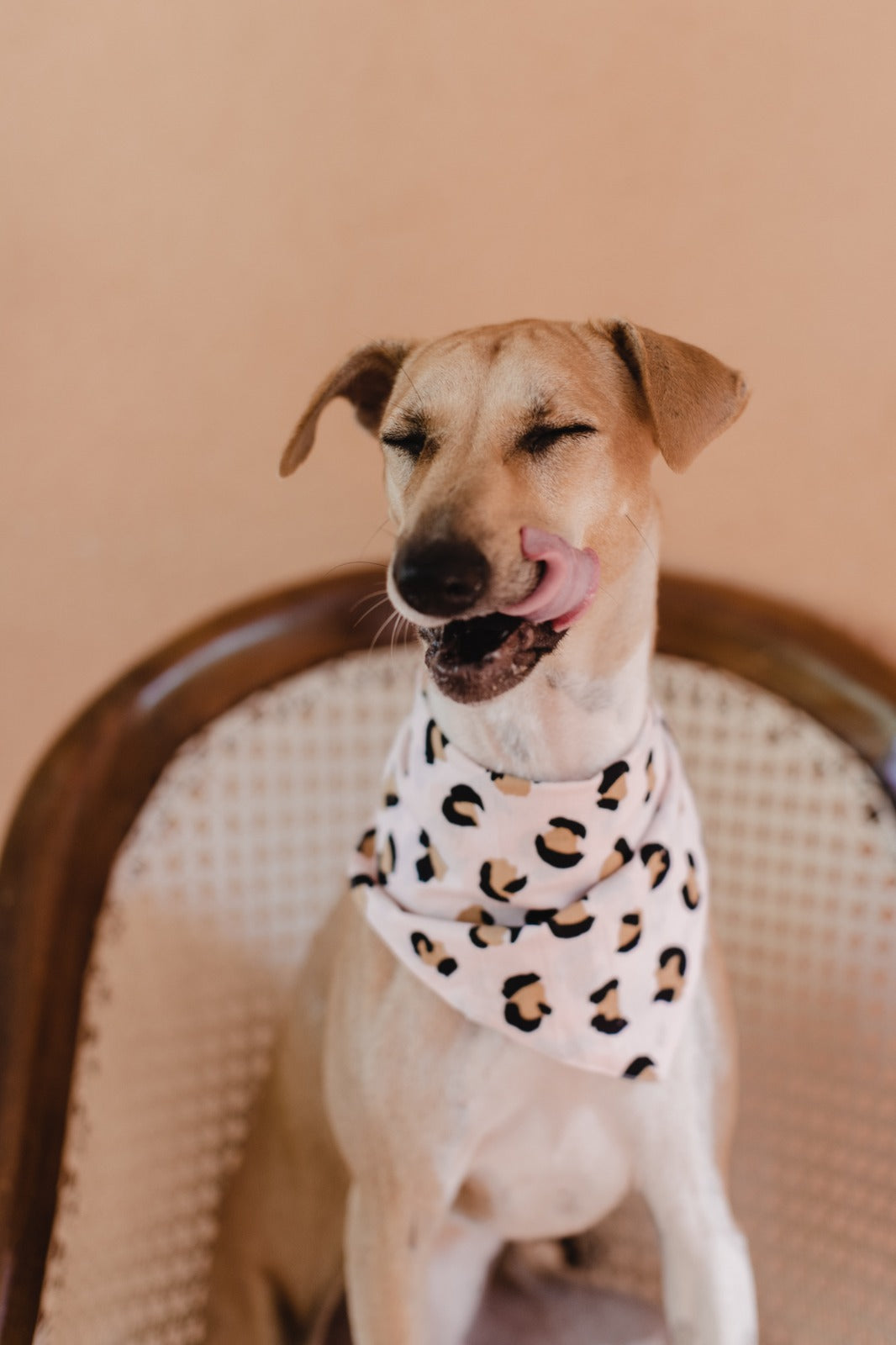 Penny
In April 2020 we spotted little Penny on the beach in Sri Lanka. She was covered in cuts and scabs and we knew we had to give her a hand!

We took her to the clinic for wound cleaning and a medicated wash and after a few weeks living the good life she was more active and much happier, and she looked a whole lot better too!

We decided to keep Penny at our house as our foster pup and she quickly became loved by all. Penny enjoyed cuddling on the sofa after a long day running around the neighborhood with her doggy friends.

Penny lived with us for 1 year before she was adopted by her forever family in the USA! Penny hopped on a plane and headed overseas to meet her new mom and dad.

We are so lucky that Penny's new family are good friends and we have already been able to visit her! She is living the best life with her 2 pup siblings Lucy and Leo.

Read her full story here!
OTIS
Little Otis was rescued one evening as I was scooting home. It was already dark outside and when I took the turn onto my street I noticed a bright white object scurrying under a car. I quickly pulled to the side of the road and tired to get the puppy to come out, but being afraid he didn't budge! I went home to grab some food and on the second try was only able to scare the puppy even further under the car. Thankfully with the help of several neighbors we scooped up the puppy and took him straight to the vet.

Otis was quickly adopted and is spending a wonderful life with his big brother Coconut.
PEPPER
Our sweet Pepper! I woke up one morning to the crying of a little black puppy outside my front gate. Covered in ticks and soaking wet, I picked Pepper up and got to work! One hour later, and much, much cleaner Pepper was on her way to the vet for her first checkup.

Pepper stayed with me for two weeks and was adopted to a great family with a sister pup named Pasta!
PInot
Pinot was rescued alongside the owners of Coffee Cartel. We received a call from Jess and Blake after they found Pinot on the side of road scooting along and not able to use his back legs. We worked together to get him to the vet in Bali where he spent several weeks under observation.

We eventually made him a wheel chair and relocated him to a pup shelter. Knowing that it would be very hard to re-home a paralyzed dog in Bali we started looking for a family abroad.

Pinot found his forever family and we moved him to the USA! The best news … Pinot (now known as Luckie) walks / runs and left his wheels behind in the dust!
LUCY
Lucy was born behind the local massage shop in June 2018. One day I was scootering home from work and noticed two tiny puppies walking around the road. I pulled in and found out they were owned by the manager of the salon. My sister and I bottle fed them and then moved them over to wet food.

Though our sales we have paid for Lucy's (the brother was adopted to another village) vaccinations and sterilization. We still visit her at least once a week for cuddles!
MATCHA
We stumbled across Matcha as a very hungry beach dog on our morning walks. From that day on we carried extra dog food and a bottle of water for her every morning we went to the beach.

After one month, once she was a bit healthier we took her to get sterilized with Bali Pet Crusaders. She spent 24 hours at the vet and then returned to her beach life where we watch over her. Recently two Swedish travelers fell in love with Matcha too and they have worked to find her a new home in a guest house!

Matcha is safe and happy!
MUFFY
We rescued Ms. Muffy in July 2018. We spotted her wandering the road to the beach and after our beach walk she had made her way down to the ocean.

I noticed a large red tumor coming out of her lady parts and knew right away she had TVT Cancer. We acted quickly and took her home on the scooter. Our vet came and took Muffy in and we began her chemo treatment.

Muffy was adopted by Dr. Witari's assistant and is having her second chance at life!
POE
Poe was left to die on a quiet street in Bali. We found Poe on the way to work one morning - tired and alone. Our vet, the amazing Dr. Witari, took Poe to her clinic where she is currently spending her time recovering. Upon rescuing Poe we discovered she only has one eye.

It took her several months to recover with the most wonderful foster family in Bali before being adopted to Emma - she now goes by Twiggy and has the most glamours life!
ROO
Little teeny tiny Roo was rescued just before Christmas Day in Denpasar. I found her digging into a bag of trash - and at first glance I thought she was a cat! She fit right into my canvas bag and off we went to the vet.

Fortunately I had a lady who was looking to foster a pup and she took Roo the very next day and within a week she said she wanted to adopt her! We love little Roo.
SIMBA
sheshe
Simba was rescued along side her mama, Missy from the side of the road near a garden center. Missy had been roaming the streets, scabby and hairless and her little daughter was trailing behind.

Simba was in foster care with two families before being adopted by a wonderful couple and their two other Bali Dogs.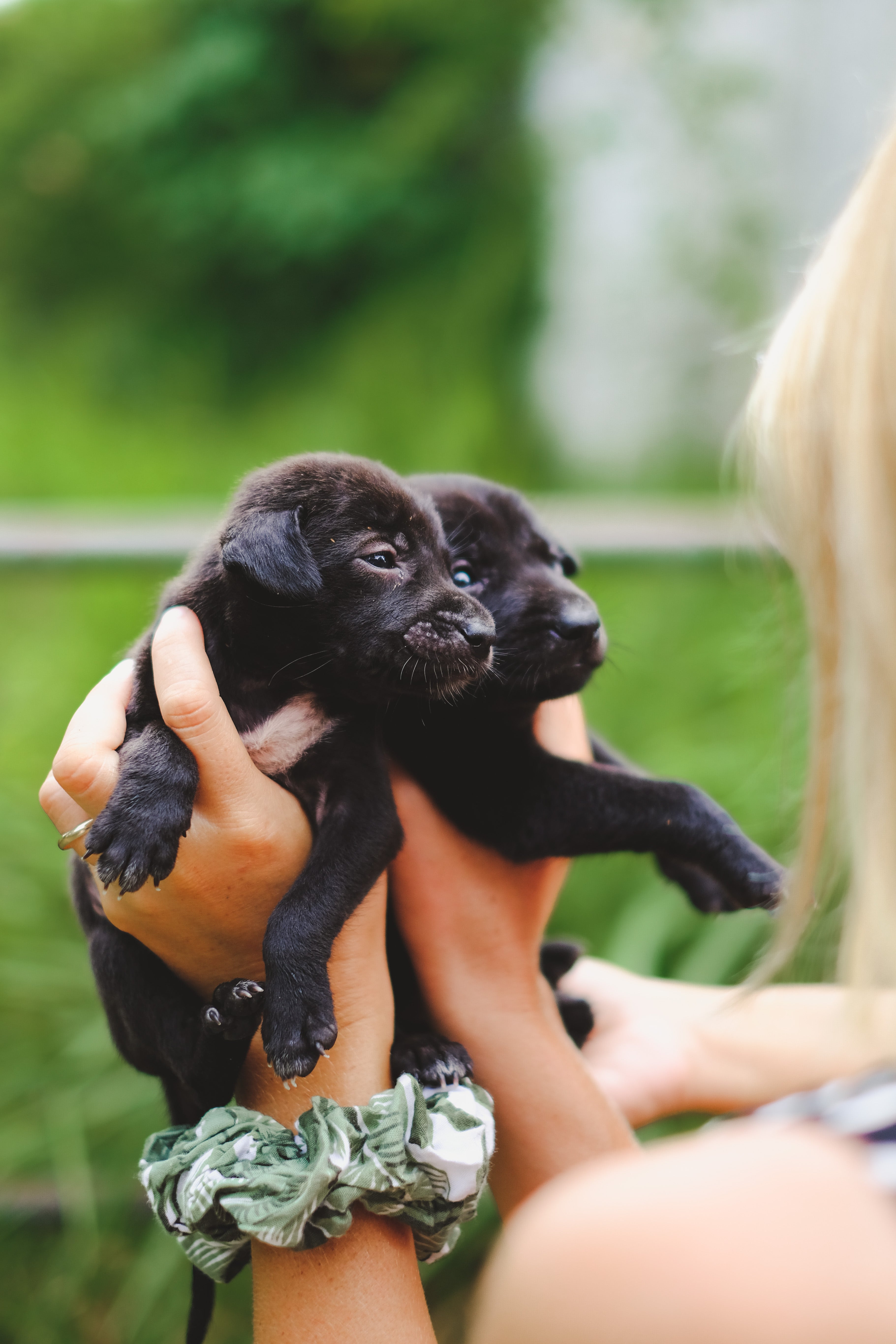 8 PUPS
Our friends, Ask and Mathilde, called us about a litter of 8 puppies that were born to a street dog living near their homestay.
The area where the puppies were born was right next to busy street heading to the beach, so we knew it wasn't a good spot for them to grow up.
Together as a team we worked together to get all of the puppies into foster homes and eventually adopted. They are living their best lives now, one even moved to the USA in 2019.
ANGEL
Right around the corner from our home in Bali there are several little shops selling different odds and ends. One of the shops has several dogs that wander in and out of the shop during the day. While filling up my scooter with gas one morning I noticed one of the dogs had a large tumor hanging from her lady parts.
With limited Indonesian I did my best to explain to the shop keeper that their dog had whats called TVT cancer, a sexually transmitted cancer that is usually easy to cure if handled correctly. TVT cancer is usually contracted as a result to over breeding dogs. As Angel was a miniature mixed breed dog she had been used for breeding for years.
With the help of our vet we explained that we would like to help cover Angels cancer treatment cost. While treating her with chemo we also told the owners we were going to sterilize Angel so she could no longer have puppies.
Angel is now cancer free ( after 5 rounds of chemo) and she's back to living a wonderful life with her family in Bali.
BROWNIE + 7 PUPS
Brownie was rescued by my friend Arya and her newborn puppies. Mama dog and her puppies were moved to a dog kennel where they were safe and able to get the rest and nutrients they needed to grow into healthy and loving little pups.
As the babies started growing we worked on finding fosters and adopters for all of the 7 puppies. Within 2 weeks all of the pups found their forever homes. My good friend Marie ended up adopting on of the pups, and and he moved back to Germany with her too!
BUDDY
We found Mr. Buddy up the street from our house in Bali. He and his mom were living in a dirty gutter and they would come out on the street during the day to look for food and water. We kept an eye on the mom and her pup, feeding them and giving them medicine. While the mom was a very wild street dog, her pup was sweet and loving.
When Buddy started roaming the street more and more, we noticed that his mom wasn't keeping a watchful eye on him. We decided to bring Buddy into our home where he lived for several months until he came big enough to re-home. With the help of BAWA Buddy moved to Ubud and now lives with a wonderful Balinese family!
COOKIE + 6 PUPS
We first met Cookie at a cafe in Bali. She was a regular customer, coming in throughout the day to see what scraps she could as people finished their breakfast and lunch.


One day we noticed that Cookie's stomach was swollen and it turned out that she had babies on the way. After Cookie gave birth to her 6 puppies we relocated her to a dog kennel in collaboration with other rescuers and people who also loved Cookie.

Her 6 kids were quickly adopted and Cookie was too! Cookie was sterilized before she moved to her new home so there will be no more baby Cookies!

Her 6 pups are living their best lives in wonderful homes around Bali.
DELLA ... NOW PEA
We spotted Pea over the course of several days in the parking lot beside the beach in Bali. Her fur was all scratched off and she had patches of blood where she had scratched too hard. She looked confused and out of place - most likely dumped by the beach as she was no longer wanted by her family.
Along with other rescuers we sprang into action and caught Pea ( with the help of a dog catcher, as she was very nervous!) Pea was taken to the vet and spent several days there while they cleaner her wounds and gave her medication. She was then moved to a kennel where she recovered and was taught to love humans again.
Pea met her adopter many months after her rescue, and they instantly connected. Pea's personality transformed with her new dad - she finally felt loved and at peace.
GRIFFIN
Little Griffin was one of my first rescues in Bali. While scootering with Scout (my pup) to meet a few friends for breakfast I spotted Griffin, a tiny little hairless pup, on the edge of the rice field near my house. We foster him for about one month while he grew new fur, was fully vaccinated and ready to be adopted.

A friend from work adopted Griffin and he lives happily ever after!
INDHA
Indah was found on the side of the road between Ubud and Canggu. She was laying in a little wooden box without one strand of fur on her body. We quickly zipped her into a backpack and scootered to one of our favorite vets. She stayed with the vet for 2 weeks before moving to her current foster home thanks to the suggestion and advise from other rescuers.

Indah was adopted to a lovely lady in Canada and she made the big journey home in July 2018.
KELLY + CAROL
Our dear friend Greg called us one morning after finding two tiny female puppies in a cardboard box in front of his front door.

Using the power of social media we posted the little girls photos and less than 24 hours later we found a forever home for the sisters!

They are now living their best life with their mama + brother pup in Bali.
NONA
Nona was rescued on Christmas Eve. My friend rescued her from a wet rice field, but at the time she had 3 other rescue pups living at her home and the different puppies couldn't mix since they had not been vaccinated. We picked up Nona and after a visit with the vet she was off to foster care with Tim and Amy.

Several weeks later she moved to foster care with Ben and Christina and was then adopted to an MMA fighter and now she spends her days guarding the gym!
OBIE
Oh my sweet sweet Obie - where to start! On my 30th birthday we were scootering home from Ubud when we spotted a sweet puppy hit by a car and killed in the middle of the road. We slowed down and sitting on the side of the road was teeny tiny Obie. We scooped him up and the rest in history.

Obie is part of the family - he's a playful, crazy and amazing boy and I cannot image life without him.

He now lives with my brother in the USA.
OLLIE
Ollie caught my eye while I was driving to work one morning. At first I thought he was just relaxing on the side of the road, but as I slowed down I realized he was shaking and trying to stand up - but failing to do so. I called my wonderful local vet Dr. Witari and she came quickly with a cage and we transported Ollie to her clinic.

The first few days Ollie wasn't improving and we were at a loss of how we could help him. Dr. Witari suggested we give him a bit more time with medicine and love - and what do you know! Several days later he was standing up and slowly wagging his tail.

Now Ollie has a forever home with the most amazing mama, Ditta!
SOPHIE
Moe and Sophie were rescued by a Australian tourist who found them in a rice field outside their Airbnb the day they were leaving to go back home. They sent us a message to see if we could help and several hours later the litter of four were at the clinic.

Sadly two did not survive due to Parvo, but Moe and Sophie have grown into wonderful dogs living with families in Bali.
STEVIE
Stevie has a wonderful rescue story. Lauren Bullen (a social media star living in Bali) was posting photos of her new villa construction on instagram. I noticed in one of the stories there was a little puppy who looked to be a stray.

I reached out to her asking if she wanted help to rescue and rehome the pup. Within 5 days of the rescue the dog was adopted - gotta love the power of her social media!

Through out sales we paid for the rehabilitation and initial vaccines for the pup.
SULLY
My sweet girl Sully. I passed Sully on the side of the road - missing hair, a bum eye, and long and large tits from breast feeding. I pulled to the side of the road and she was immediately approachable and sweet - which isn't always the case with street dogs. I gave her a bite to eat and arranged for the vet to come and check her condition. When the vet arrived we realized she had a litter of 5 puppies in the back of a house.

We decided to come back in a weeks time once they could be weened from Sully but when we returned we learned they had been sold. Devastated I knew I had to help Sully. The next day it was pouring rain and when I went to feed her dinner I realized I couldn't leave her behind. That night I put her in my bag and we headed home!

Sully now lives with big brother Otis in the USA!
TYSON
Tyson was rescued off the side of the road in our tailors neighborhood. While scootering home I noticed a little pup looking lost and wandering down the road. I put him into my bag and took him to the clinic. Soon he was moved to his foster mom's house - a tourist visiting from Canada. He was then adopted by a lovely expat family.
VANILLA
Vanilla and her brother Dini were intentionally poisoned with rat poisioning. A lady who lived near the area where they were poisoned saw they were sick and rushed them to the clinic. They spent several days on IVs and we were contacted because the vet bills were getting expensive. We took Vanilla and Simba and paid for their vet care and worked to rehome them. Vanilla was fostered and a week later adopted. She is living a wonderful life, and her new dad is a surfer so she spends lots of time at the beach!
WILLOW
Willow was my first rescue dog on Bali. While walking our dog Scout on the beach one morning we spotted Willow whimpering on the sand - hairless and scabby. After a quick phone call to a rescue group  we gained the courage to put Willow on a leash and head to the vet.

Flash forward 3 months (2 wonderful foster homes with care and love) and now Willow has landed her 4 paws in am amazing home with two wonderful Swedish Expats in Bali AND she has a body full of fur!
DINI
Dini and his sister Vanilla were intentionally poisoned with rat poisioning. A lady who lived near the area where they were poisoned saw they were sick and rushed them to the clinic. They spent several days on IVs and we were contacted because the vet bills were getting expensive.

We took Vanilla and Simba and paid for their vet care and worked to re-home them. Dini took a turn for the worse one week after being poisoned and had to stay in the clinic for 10 days. He recovered and now loves finding ways to escape his fosters home (hence the name Houdini - Dini for short!)
FRANNY + FREDDY
Franny and Freddy are siblings rescued together when they were found by a friend in a rice field. When they were rescued the didn't have any fur and Freddy had a big wound on his paw.

Since they were so young they didn't require much treatment, they just need time to heal and be loved. They bounced between foster homes and quickly became fiesty little healthy pups. Freddy (now JJ) was adopted by a lovely family with a young daughter and Franny (now Aiko) lives with her mom, dad and fur sister!
GEORGE
George is a special rescue! Many times Tina, the lady who helps produce our bandanas, would ask me where the donations from the sale of the bandanas goes.

I told her that we help to rescue and re-home dogs in need and that if she ever saw a pup that needed help to let me know. Less than one week later Tina was calling telling me she saw a dog on her street being hit by a broom stick. I quickly came to her home and zipped George to the clinic. Sadly George had a number of internal medical conditions including a very severe blood parasite.

After some time in the clinic George moved to foster care and in October 2018 he was adopted by a lovely Canadian couple living in Bali!